Hello everyone - it's round-up time! July seems to have been a busy month for a lot of us, what with Tales of the Cocktail, vacations and plenty of other things going on. Turnout was a little on the lighter side compared to recent events, but general excellence reigned as well. In addition to several old-pros, we welcomed 3 newtimers to the fold, and what struck me most about all the entries was how everyone ended up picking a unique angle on how to either handle or present our theme, Ice. Without further ado, on with the Ice-Capades!
Marius of
Arcane Potions
starts the festivities off with the
Rejuvenation Orb
, an ice-spherified cocktail featuring Monin apple syrup, citrus, and, oh the possibilities, gin. What's more, he offers two different options on how to handle the cocktail, with the logistics of a cocktail-in-ice-sphere and the small serve size it presents. Fascinating and gorgeous.
New to MxMo and cocktail blogging in general, Pete of
Meticulous Mixing
gazes deep into the crystal ball and returns with the best ways to make big perfectly-clear blocks of ice perfect for hand-carving. He also offers the
Crystal Pear Gin
cocktail as a way to show off the blink-and-you'll-think-it's-not-there ice. Keep an eye out, folks, he's
clearly
off to a good start!
Next, Julia of
A Bar Above
gets indulgent with frozen cream cubes for a decadent
Bourbon Milk Punch
. Anyone up for a pitcher of these, a set of inner-tubes and a lazy winding river?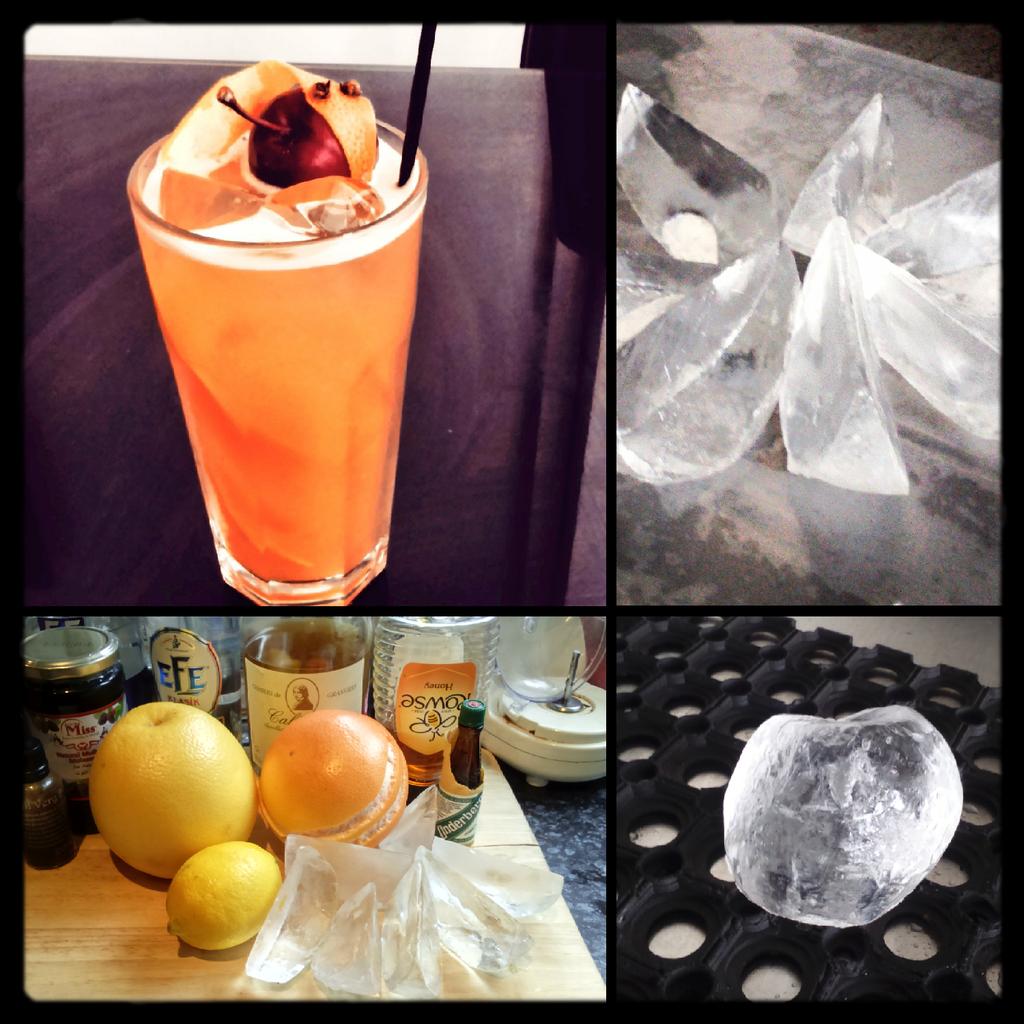 Also new to MxMo, one of the ice experts at
Ice Cubed Manchester
joins us via egullet to showcase a biblical-themed ouzo/raki/calvados mix,
In a Gadda Da Vida
, featuring a hand-carved and bandsaw-cut ice apple (with a grapefruit peel serpent for good measure!). For more cocktail ice showcases, check out their Twitter feed (
@Ice3MCR
).
Next on deck, our favorite catherder-in-chief, Frederic of
cocktail virgin slut
, pulls out the
Liquid Intelligence
by Dave Arnold to design an in-your-own-home-freezer frozen cocktail. Instead of a plain-jane frozen daiquiri, he takes it to the next level with an apricot-and-orange daiquiri variant, giving us the
Frozen Periodista
.
From
Kitchen Shamanism
, Kafka turns what others might consider a flaw, a hand-crank ice crusher missing a single tooth, into a visual explosion with larger "rustic"-looking ice pieces. He showcases them in an equally-striking
Gunroom Swizzle
, with Gunroom rum, grapefruit, cinnamon, and Pernod.
Over at
Southern Ash
, Joel takes the fight to the summer heat with a full-on
Gin & Tonic Float
featuring a Gin & Lime/Gin Gimlet Sorbet whipped up in the ice cream maker. My mouth waters wanting to try that (and just imagine all the
highball
/float variants you could do with that model).
Meanwhile, back at the farm,
Putney Farm
to be precise, the Putneys have apparently been quite busy in the art and science of ice in preparation for their upcoming restaurant! Stewart takes a tangent on that to discuss proper crushed ice and how essential it is to Tiki drinks. Then, he mixes up
The Reef Pass
, a Mai Tai variant with Santa Maria al Monte amaro in place of simple syrup and basil in place of mint. Herbaciously intriguing..
Our last first-timer is Dy, from her eponymous site
dygodsey.com
, though other might know her as
@dy_mixes
on the Twitters. She goes the full-on Il Palio route, creating a morphing cocktail that turns
a vodka seltzer into a gin and tonic
via some special ice cubes designed to quick-melt. How's
that
for legerdemain?
Mike from
DrinksBurgh
breaks the mold a little to give a rundown of various
ice-making tips
, from frozen pineapple mugs, to small batch incubated crystal clear ice spheres, to the feature shaved ice daiquiri. Look how fluffy, refreshing and versatile! And so simple to make with the right tools. Go. Look!
And then as
Doc Elliot
or the Russians might say, you don't break the mold - mold breaks you. Go watch in real time as a monster of a gravity-powered ice-sphere-maker slowly and elegantly sinks down onto a crystal-clear block of ice, leaving nothing but perfect roundness in its wake. Then
stay to read Doc's tips
on how to get that crystal-clear ice block to begin with. Purty..
Next up, Laura of
Sass & Gin
gets....what's the word?
Slushy!
And boy howdy does she ever. She starts off with a Sangria Slushy including red wine, Pimm's Blackberry & Elderflower liqueur, and fresh fruit. Next she chases that with a ga-ga New York Sour Granita duo, with rye and madeira. *passes around spoons to everyone*
Penultimately, Dagreb of
Nihil Utopia
slips off into the exotic ethers of Tiki and wends his way to the temple of Blendraka (Boomer: settle down Muse, you gotta finish the post.. MoD: But it's in Tahiti! Right next to the 7-11. Ahem.) There he receives sacred words of wisdom by being buried under an avalanche: ye shall not underdilute your Tiki drinks! He returns to demonstrate to us blended perfection with the
Cocoanaut Flaming Re-Entry
: you put de rum en de lime in de coconut - and set it on
fire
!
Finally, I put together two recipes to play off different icy styles. First, I froze up some teeny
Hedgehog Pops
with rum, coconut water and other tropical accoutrements. Next, I riffed on the Corpse Reviver #2 with gin, bianco vermouth and crème de violette while extending it with special honeydew juice ice in the shape of a lily pad:
Nymphéas
.
Thanks to everyone here who participated and made this event a success!
Thanks also to Commander Catherder, Fred of
cocktail virgin slut
, and founder of our beloved institution, Paul Clarke. I can't wait to see what MxMo 100 will be like! (oh the excitement!)
Cheers, and word to your mother.. Peace out.
P.S. That Cocktail Ice Pinterest board I put together? It's now a Cocktail Ice/MxMo Ice, Ice Baby board, with (mostly) everyone's posts (some are not pinnable, and I respect the copyright)! Check it out and pin away!