Welcome back!
So by all accounts there was very little in the way of singed eyebrows. And for the great turn-out we had for the 76th edition of
Mixology Monday
, I'd call that an unqualified success! Seriously though, I'm scrolling down this list of cocktails and there is nothing but A-games. Kudos to everyone!
Also, goodnesses, half the people here must have stomachs of steel. The cocktails ranged from super-spicy to charred to smoky (but refreshing, all the same). Tiki and classic and coffee. We even had an elevated mocktail and boozy jellies, and (count'em) two videos this month! (and a couple of folks picked up on the George R.R. Martin reference in this #MxMo's announcement tweets and ran with it)
Let's get to it, shall we?
First out the gate like a bottle of wine smashed on a prow, Nick of
The Straight Up
was, quite fittingly,
En Fuego
. This cocktail is a kitchen sink of heat with serrano pepper, ginger liqueur, Hellfire Habanero shrub and mole bitters on a mezcal and Gosling's base, finished with a flamed lime twist. (whew! *passes around the hand-fans, 'cause we're just getting started*) He later followed up with the charcoal-aged Boulevardier,
Smoke in the Woods
, including many fiery flourishes such as a flamed spray of absinthe.
Next up, it's the return of Keith from
theSpeakista
! Keith
brings us two cocktails
, each utilizing a custom Fire Syrup made from cinnamon and red chili flake. The first,
Setting Fire to the Rain
, bears similarity to a spicy mezcal Sour, but lengthened with a light-to-medium lager. The
In their defense...
is a bourbon and multi-rum Old Fashioned with Fire and vanilla syrups and mole bitters.
Absolutely mouth-watering.
Over at
The Shorter Straw
, Raffaele crafts
Charred Memories
, a cocktail where virtually no ingredient is left untouched by flame. Grilled fruit juice, flamed absinthe and zests, burnt sugar syrup on a rhum agricole base. I admire how even the creole bitters finish plays into that aching and wistful presentation, and the anise and agricole pairing seem like they would carry that sentiment onto the palate as well.
Chris at
A Bar Above
, arrives with the first video of the session! Here he demonstrates how to make his pisco-apple sour,
Apple of Discord
. The fruit in question is a cinnamon-sweet bruléed apple globe.
Careful with this one. Give it to the wrong lady and before you know it you're halfway across the Pacific in a 1,000 ship flotilla without Chuck Heston or Henry Fonda as backup!
That said, methinks Tim Taylor might approve of the big gun.
Jesse Ventura
too.
Joel from
Southern Ash
blog recounts an
epic
Song of Ice and Fire with his
The Dragon of Summer
. Serrano-infused tequila, lightning-hot cinnamon whisky, and an icebound Sriracha-candied chili garnish.
Pause for a moment and consider that.
Sriracha. Candied. Chili. Garnish.
Just floating there, beguiling, daring you to take a bite out of that sucker. It looks so cool and refreshing with all that ice. Just mind the sign that says "Here there be dragonfire" before diving in!
Over at
Cocktail Virgin Slut
, Frederic delves into a long-classic technique of flaming drinking spirits inside spent citrus "cups", from
Pioneers of Mixing at Elite Bars: 1903-1933
. The bourbon-and-grapefruit Brown Derby-reminiscent,
American Flambée
, seems like the tip of the iceberg as far as this technique goes.
Imagine what modern bartenders could do with yuzu or sweet lime in drinks like this..
Across the state in
DrinksBurgh
, Mike shakes up the spiced rum
Cuyahoga Fizz.
As befits its oft-flaming namesake, the Cuyahoga River, the fizz is finished by torching an Angostura/brown sugar crust on top. (Amélie would gladly rap upon this with a spoon!)
Is it just me, or does anyone else want to kick back with one of these while relaxing to The Pretenders?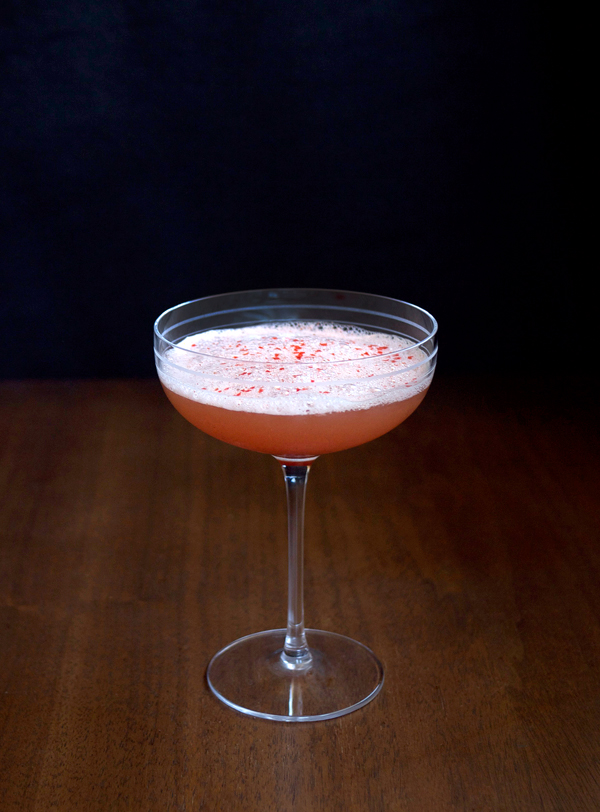 Elana gets her molecular mixology on at
Stir and Strain
with
The Eyes of Angelique
. The base of the aged gin cocktail gets some heat from a hot ginger shrub and is crowned by a luscious foam of pineapple, Campari and cayenne, plus a dusting of red glitter.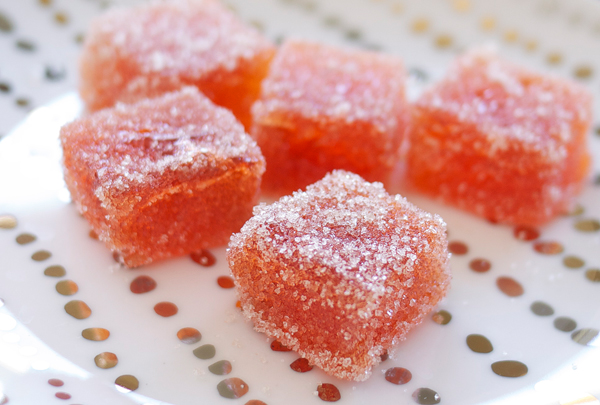 Then, she crafts sweet-bitter-hot Aperol and cayenne
Kiss of Fire
jellies. They look so adorable, you just wanna bite into one -- but then you nibble cautiously because you realize they'll bite back!
The
Booze Nerds
are at it again,
grilling not just fruit but herbs too
(I..I.. I didn't know you could do such things!).
Shaun creates a very green-vegetal
The Pointilist
with grilled lime and rosemary, and an intriguing hint of Branca Menta.
Christa muddles grilled nectarine (!) into the
Bourbon Dawn
. (nectarine's a personal fave of mine, and look at the color there!)
At
Ginhound
, Andrea offers up the savory
Hot Rod
, full of aquavit and wordplay. Bugs Bunny might be left flubbering a finger over his lips at this one: for the bright carrot juice coloring the cocktail, it hides a hidden snap from a certain spicy root. Go check it out to find out what it is, I'll bet you'll boggle to see it being added to a simple syrup too!
I like how Mike, of
Grow. Eat. Mix. Drink.
, breaks down the ins and outs of a chili pepper infusion. Infusion times and pepper quantities can be quite deceptive in comparison to other sorts of infusions, and then mixing with different levels of heat also requires small adjustments. Discussion of this sort of thing can be immensely helpful to a neophyte wanting to avoid being burned.
To show off the infusion, Mike offers up a jalapeno-infused Paloma cocktail, the
Jalapaloma.
Our second video of the event graces us from
Measure & Stir.
Joseph Tkach uses the format to better illustrate how to smoke a serving glass for his
Lavender-Smoked Martini
, fire and smoke being difficult to capture in static images. (I think I can smell the lavender through the screen, mm...)
This was a great first-time-out, and I hope you'll make more!
Next, we hop on over to
Tartines to Tikis
where FrogPrincesse, fresh from the festivities at Tiki Oasis in San Diego whips up a classic party-size
Don the Beachcomber's Volcano Bowl
(complete with Hula Girl!). Four rums, including Lemon Hart 151 for the flame, on a base of grapefruit juice with a touch of maple syrup make this something I could enjoy sipping all autumn (especially without someone to share it with!).
The Tiki portion of our program continues at
Rated R Cocktails
where JFL serves up the
Eruption
: a flaming Pina Colada! While also a take on the Volcano Bowl, not only are flavors of pineapple and coconut added, but a healthy measure of Campari too.
While he does make note of the due caution necessary when working with flamed lime shells and overproof rum, somehow I can envision a stadium full of Tiki-philes lighting up these cocktails for a Manilow performance of
One Voice
. Also, Lady Liberty would probably like Tiki, wouldn't she?
The tropical flavors carry through to Stewart from
Putney Farm
's entry,
Special-Ti'
. Is it a dessert cocktail or a cocktail that's really a dessert? Either way, I imagine you'll be floating on Cloud 9 after you get done dunking your caramelized pineapple/lime zest skewers in the aged rhum agricole Ti' Punch. My elbows are going weak just reading about it.
Dagreb, of
Nihil Utopia
, explores technique in making a flaming coffee cocktail, Roman-style:
Café Nero
. Roman-style of course indicating quite possibly the most dreamy liqueur ever to come out of Italy:
Galliano!
Do not forget the little marshmallows!
(I am so making this in the morning. It could pair quite well with Lucky Charms..)
If you're drinking along at home, here's a brief respite. Ceccotti from
Bartending Notes
takes the concept of burned wine to a whole new level, crafting a mocktail for us,
Burnt Wine Lemonade
. It uses a burnt sugar syrup on a non-alcoholic wine or dry grape juice base. If you're not careful though, it'll take all the Doom levels right out of you and then you'll have to start over from the beginning. Be sure to keep your Doom well-regulated!
Zach,
The Venture Mixologist
, gets crafty and concocts a habanero Jamaican Jerk tincture for a spicy rum-sipper,
Disya.
This is one of those drinks that makes you scratch your head wondering why it hadn't been done yet, it's so complete a realization of jerk flavor with every ingredient. It may be just me talking here, but I can imagine the depth and subtlety King's Ginger adds over something like Canton.
Fire and Blood
Next we go on walkabout to catch up with Rafa García Febles (sometimes known as DrunkLab), nomadic cocktail guru who can be found on eGullet and BarNotes, as well as being a powerhouse recipe source on
KindredCocktails
. He brings us 3 cocktails that fit the theme:
The Man Comes Around
with mezcal, Spanish brandy and mole bitters;
Spindletop Swizzle
with funky rum, blackberry shrub, velvet falernum and a burning 151 Spindletop oil gusher garnish; and
Fire and Blood
, an amped Blood and Sand with cayenne tincture and a flamed blood orange twist.
Death to Sour Mix
's Raul delivers the second Game of Thrones-themed cocktail,
Wildfire
, named after a virulent magical green weapon of war that means certain death if touched by a flame (you make me very glad to have gotten through the second book!). The cocktail itself is a riff on the Old Flame, a floral/herbal egg white sour. With pisco, *STREGA!*, and violette in the cocktail, the Wildfire comes into play via flaming absinthe floated on top the foam. Incredibly daring, that.
(and now you make me wonder what a flamed meringue foam cocktail would be like.. Strega meringue pie, much?)
Over at
Concoctails
, Todd makes with the intriguing by mixing an all-liqueur cocktail,
Heathing
, a flameful and wonderfully oblique Madeline Kahn reference from Clue: The Movie. For heat, Fire Eater cinnamon whiskey liqueur was used, along with a touch of ginger honey balsamic vinegar and ginger ale lengthener.
One sip and I'm sure I'll be left going "It's twue! It's twue!"
Slipping in with a few hours to spare late in the eve, Rowen of
Fogged in Lounge
delights with
Voice of Temptation
. With apple brandy, Lemon Hart and mezcal, this tipple's fire belongs to the rum-flamed-and-caramelized apple garnish and lovely photography. What a way to wind down in the evening.
Salut!
Finally, for my (MoD's/Kate's) own fire-modest
drinks, I did two split-spirit with ouzo cocktails. The
Apollo's Arrow
is a tequila-centric Corpse Reviver #2 riff, the sparks from the flamed orange zest bow the namesake (with the spirit combo intended as the effect of said arrow). Gin-based highball
Wind Whisperer
employs a fire-indirect method for smoking teas and tisanes for a serving glass and serves as the return of my tea-in-cocktails series Ti(n)sanity!
Many many many thanks to everyone who participated, to fearless leader Fred Yarm for indefatigable cat-wrangling, and founder Paul Clarke.
See y'all back at the partybus in a month! *rubs hands together* Now to dig in and try all these recipes. Cheers!